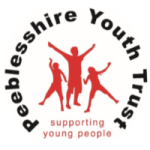 As a charity we are largely reliant on the generosity of individuals and businesses. The donations we receive are vital for Peeblesshire Youth Trust to remain sustainable to support more young people and families now and in the future.

Thanks to our fantastic supporters in 2021-22, we have been able to:
Increase the number of young people that we engage with. Expand our existing partnership working to improve the services offered to our young people. Recognise where there is a need for additional support and explore how we may meet that need.
Recruit, train and support a larger valued group of volunteers to facilitate delivery of excellent services for our young people.
Thank you to our 2021-22 funders: National Lottery, Children in Need , Peebles & District Round Table and Scottish Borders Council Neighbourhood Fund.
Thank you
to all our donors and volunteers.
PEEBLESSHIRE YOUTH TRUST (SCIO) CHARITY NO. SCO47324
info@peeblesshireyouthtrust.org
www.peeblesshireyouthtrust.org
6A Elm Court,
Cavalry Park,
Peebles
EH45 9BU
07957 383663
Please Help make a difference
Individuals:
We are delighted to receive one-off or regular donations to help support our work, where we are entirely reliant on donations and funding. Please get in touch to find out more about how to make a donation!
Local Businesses and Organisations:
We are hugely grateful to many local businesses and organisations who generously support PYT through monetary and physical donations such as raffle prizes. If you are interested in finding our more about how your business can make a difference to young people in our area, please do get in touch.