Thanks to the amazing Danny Macaskill we have some brilliant prizes to give away this year.  Our first winners were the Lancaster family.  A great biking family from here in Peebles.  The two boys were so chuffed with their signed calendar and Mum definitely received many 'cool mum points' for entering the competition.
We also have a signed T-shirt that we will be raffling at the Tweeddlove Festival this year.  Keep an eye for tickets in the merchandising tent, and Shona will be wandering around at most of the events selling tickets.
With thanks to Danny as well for just being an all round top bloke, and taking 10 minutes to sign the stuff for me, even though he was packing for Switzerland and almost missed the ferry.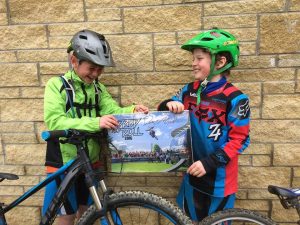 Click here to add your own text